Poppy seeds have a nutty and slightly sweet taste with a crunchy texture. They are often used as a garnish or ingredient in sweet and savory dishes in Indian, Western, Eastern European, and Mediterranean cuisine.
What are poppy seeds?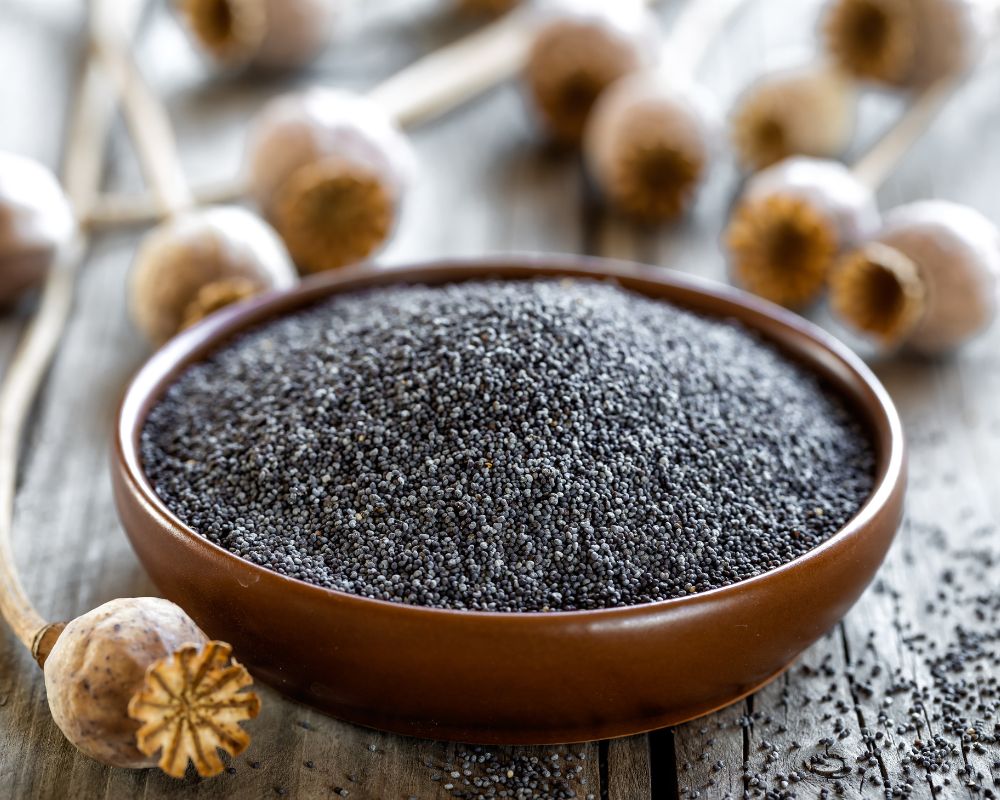 Poppy seeds come from the opium poppy plant (Papaver somniferum). They add flavor to dishes, although their main contribution is their unique texture and appearance. They are often used in baking to add crunch and in cooking to add a decorative touch to salads and other dishes.
Poppy seeds are common in pastries such as muffins, cakes, and bread. They are also a key ingredient in traditional European desserts like poppy seed rolls, strudels, crumbs, and cakes.
In savory dishes, poppy seeds are often used to top bread and bagels and as a seasoning for pasta, fish, roasted vegetables, and salad dressings.
There are several varieties of poppy seeds:
Yellow
Brown
Blue
Black
White poppy seeds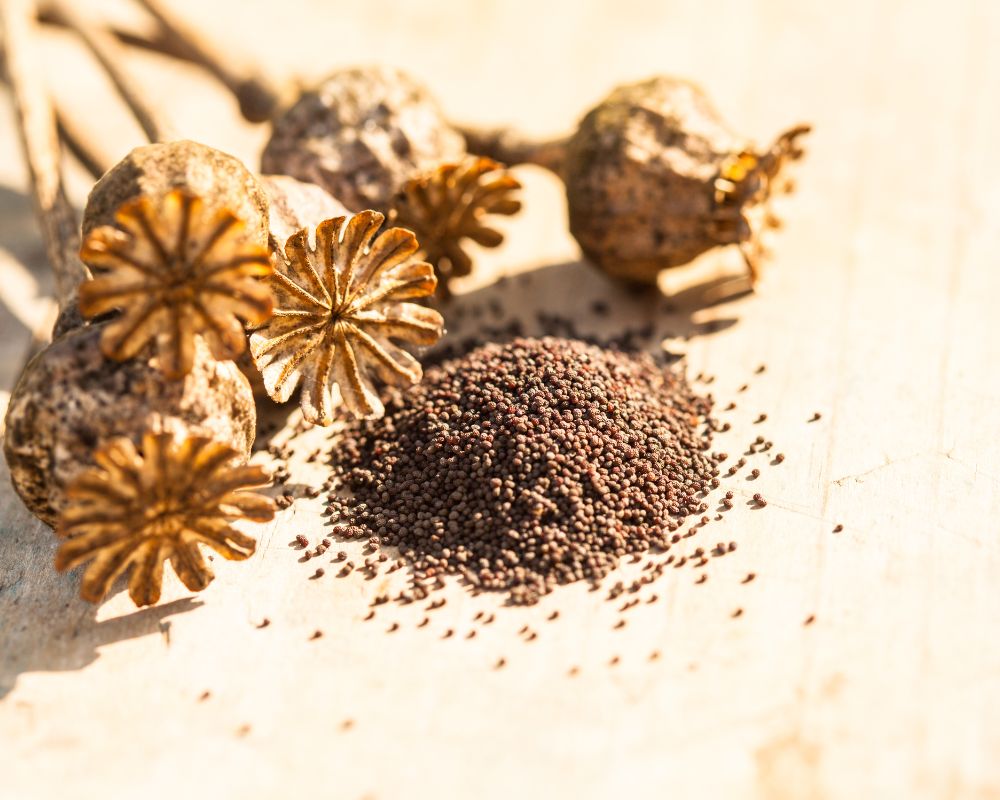 Are poppy seeds okay to eat?
Poppy seeds are safe to eat in moderation. They are prized for their health benefits. Poppy seeds are a good source of amino acids and essential minerals like calcium, iron, potassium, and magnesium. They also contain dietary fiber and healthy fats.
Additionally, poppy seeds have been associated with improved digestion, reduced inflammation, and enhanced cognitive function.
Do poppy seeds have opium?
It's worth noting that poppy seeds can contain trace amounts of opium alkaloids, which can lead to a positive drug test for opiates.
Poppy seeds also have trace amounts of morphine alkaloids, including morphine (18.6 mg/kg) and codeine (2.3 mg/kg).
Do poppy seeds add flavor to dishes?
Poppy seeds can add a slightly nutty and crunchy texture to dishes but are not typically used to provide a strong flavor (think of sesame seeds, for comparison). Instead, they act as a decorative element or add a subtle flavor that complements other ingredients.
For example, poppy seeds can pair well with lemon or almond flavors. In savory dishes, poppy seeds bring a slight crunch and texture to salads or as a coating for meats.
You can make ground poppy seeds using a grinder to get a more profound taste.
what do poppy seeds taste like?
Poppy seeds have a distinct nutty and slightly sweet flavor profile. They are tiny and have a crunchy texture when eaten. The nutty taste comes from the seeds' high oil content, which gives them a rich and earthy flavor.
The sweetness is mild and subtle, adding a pleasant balance to the overall taste.
Can poppy seeds go bad?
Yes, poppy seeds can go bad if not stored properly. Over time, they can become rancid and develop a stale or bitter taste.
It is important to store them in an airtight container in a cool, dry place to maximize their shelf life.
10 best poppy seeds recipe ideas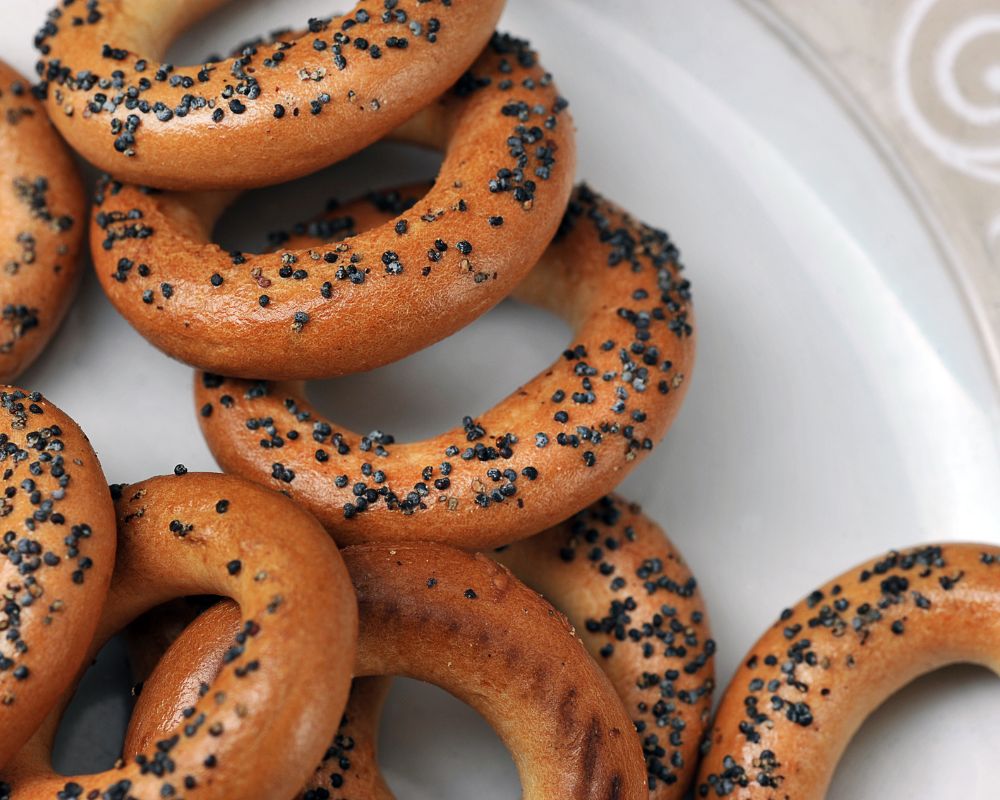 These little guys may be small, but they pack a big punch regarding flavor and texture. Get ready to sprinkle some poppy seed goodness into your meals and desserts: