Aleppo pepper (Halaby pepper) is a type of dried chili pepper that originated in the Syrian city of Aleppo and is part of the capsicum genus. It is a condiment with a medium to dark red color and a moderate heat level. Aleppo chile pepper is often sold as flakes or a coarse powder and has a slightly oily texture, ideal for dishes from the Middle East.
What is Aleppo pepper?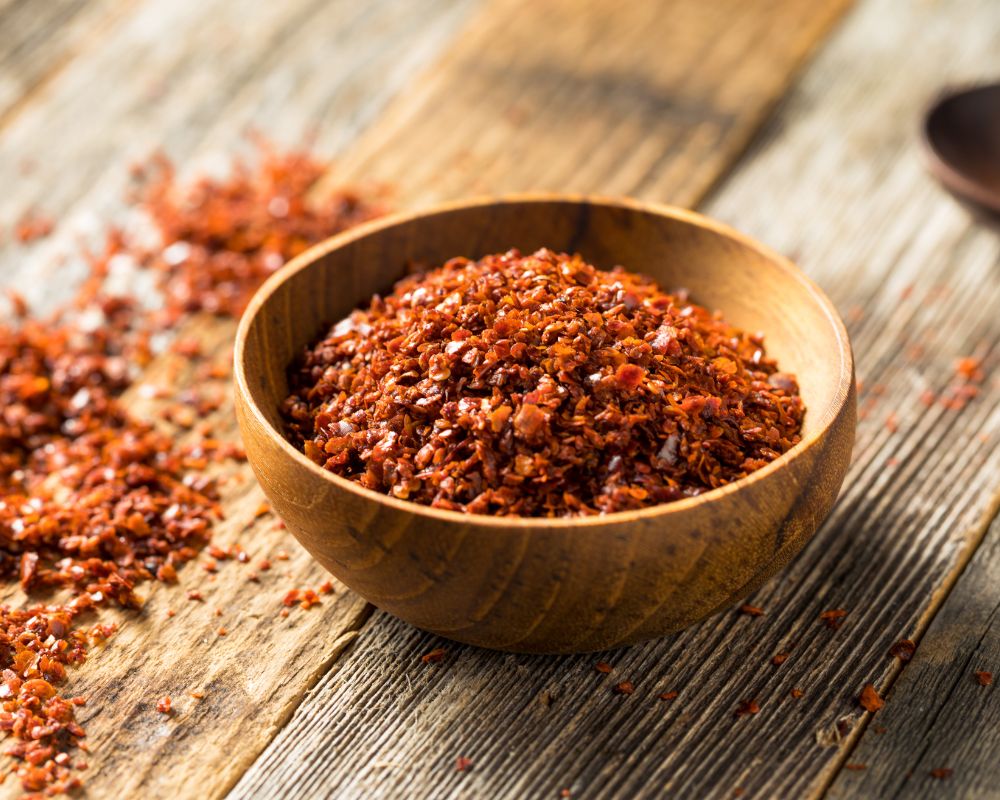 Aleppo pepper is known for its moderate heat and fruity, earthy flavor. It has two forms:
Whole Aleppo peppers
Aleppo pepper flakes are whole peppers that are de-seeded, sun-dried, and ground into chile flakes
| | |
| --- | --- |
| Origin | Syrian city of Aleppo |
| Flavor profile | Mild heat, a bit salty and sweet, similar to tomatoes |
| Cuisines | Middle Eastern and Mediterranean cuisines |
Origin
Aleppo pepper is a red pepper originating from the Syrian city of Aleppo. It is commonly found in Syria and Turkey.
Flavor profile
The flavor profile of Aleppo pepper has mild heat, with a slightly salty and sweet taste and notes of raisin or tomato.
Others say it has a fruity, tangy flavor with hints of cumin and dried fruit. It has been described as having a "raisiny" or "dried fruit" taste, with a moderate spiciness that is not overpowering.
Cuisines
The unique flavor profile of Aleppo pepper makes it a popular spice in Middle Eastern and Mediterranean cuisines. It is commonly used as a seasoning for meat, vegetables, and dips and can add a distinct flavor to dishes.
What spices go with Aleppo pepper?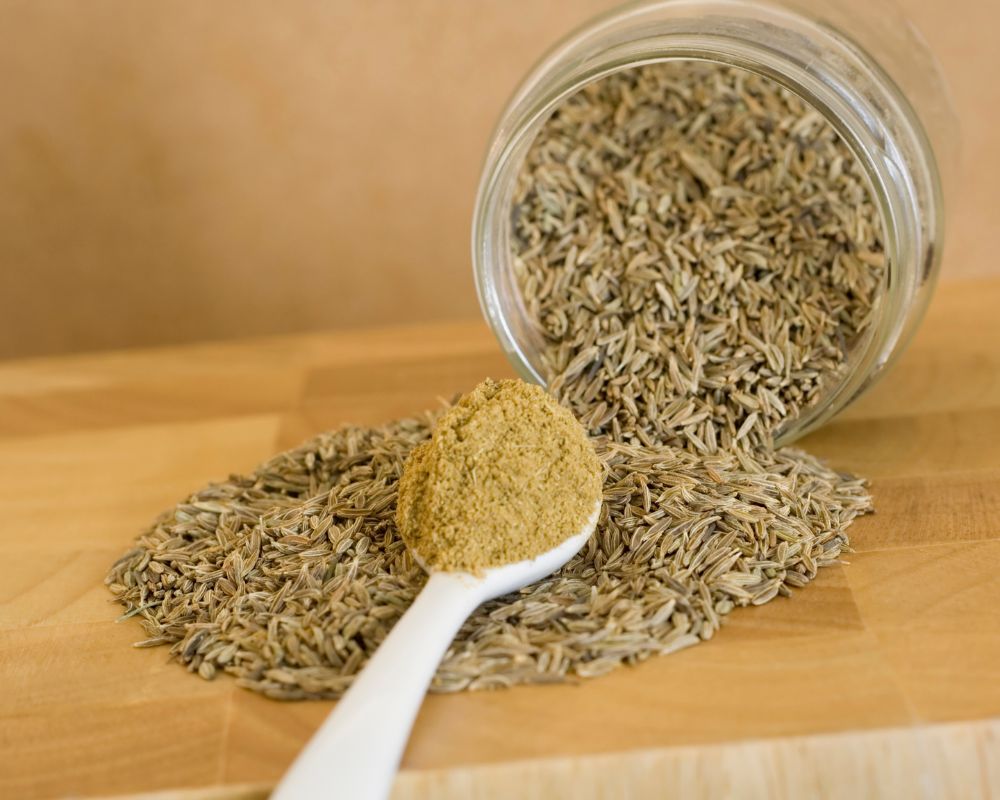 You can cook Aleppo pepper with sea salt and black pepper and fry them in extra virgin olive oil. Some spices that go well with Aleppo pepper and complement its flavor profile include:
| | |
| --- | --- |
| Cumin | An earthy and slightly bitter flavor that pairs well with the fruity notes of Aleppo pepper |
| Coriander | A citrusy and slightly sweet flavor that adds brightness to dishes featuring Aleppo pepper |
| Sweet paprika | A sweet and smoky flavor that enhances the heat and adds depth to dishes |
| Garlic | An aromatic and savory flavor that adds complexity and depth to dishes featuring Aleppo pepper |
| Turmeric | Warm and slightly bitter flavor that complements the fruity notes of Aleppo pepper and adds golden color to dishes. |
If you want substitutes, try combining sweet paprika and cayenne pepper.
Top 3 Aleppo pepper recipes for chicken
Aleppo pepper is a beautiful addition to chicken recipes, adding a warm and slightly fruity flavor. Here are three delicious dishes to try:
Aleppo Pepper Chicken Kebabs: These boneless chicken skewers are marinated in a flavorful blend of spices, including Aleppo pepper, which adds mild heat and a touch of sweetness. The creamy yogurt marinade complements all this.
Aleppo Pepper and Mint Roast Chicken: This roast chicken is seasoned with a mixture of Aleppo pepper, garlic, lemon, onion, and scallions, resulting in a juicy and flavorful dish with a subtle kick. But the star of the show is the fresh mint that pulls everything together.
Grilled Aleppo Pepper Chicken Thighs: This dish features tender chicken marinated in a blend of spices, including Aleppo pepper, which gives it a smoky and slightly spicy flavor.
3 tasty Aleppo pepper recipes with red meats
Aleppo pepper is a delicious addition to red meats, adding a mildly spicy and fruity flavor that pairs well with these intense flavors:
Aleppo Pepper–Roasted Pork with Shallot Vinaigrette: What makes this recipe so darn delicious is the combination of tender and juicy pork perfectly seasoned with Aleppo pepper and the tangy and sweet shallot vinaigrette.
Aleppo pepper beef kebabs with chili and coriander hummus: These are loaded with flavor, thanks to the combination of the smoky Aleppo pepper and the zesty coriander creamed chickpeas.
Aleppo Pepper + Lime Crusted Beef w/ Chimichurri: This dish is a true masterpiece – the Aleppo pepper and lime crust gives the beef a tangy and spicy flavor perfectly complemented by the fresh and zesty chimichurri.
the best Aleppo pepper recipes for broths and soups
Aleppo pepper, a versatile spice with moderate heat and fruity undertones, adds a delicious depth of flavor to broths and soups. Here are three fantastic recipes that incorporate this flavorful spice:
Mediterranean-Style Turmeric Lemon Chicken Soup: This soup features everyone's favorite yellow spice, turmeric, zesty lemon, and succulent chicken. But the best addition that gives it a lovely flavor must be the Aleppo pepper. It's like a flavor explosion in your mouth that transports you straight to the Mediterranean coast.
Mediterranean Fish Soup with Paprika and Aleppo: With a spicy kick from the Aleppo pepper and smoky depth from the paprika, this soup is anything but boring. Plus, it's packed with all the healthy omega-3s that fish offers.
Turkish Red Lentil Soup (Kırmızı Mercimek Çorbası): This soup contains red lentils and a few other essential ingredients like onion, cloves, cumin, and coriander, but it's bursting with flavor. Plus, it's vegetarian-friendly and healthy.
3 ultimate vegan Aleppo pepper recipes
Here are three ultimate vegan recipes that feature the delicious and versatile Aleppo pepper as a key ingredient, adding a rich flavor to your nuts and veggies.
Vegan Turkish-Style Breakfast Tofu Recipe: This dish combines the flavors of Turkey with the nutritional benefits of tofu. It's the perfect way to start your day. You can replace tofu with a slice of flavorful feta cheese.
Harissa Cauliflower with Mint and Aleppo Pepper: The heat from the harissa is perfectly balanced with the coolness of the mint, the crispy cauliflower, and the Aleppo pepper adding just the right kick.
Creamy Saffron And Grilled Pepper Gnocchi Topped With Pistachios, Aleppo Pepper, And Parsley: This dish is a symphony of flavors and textures — the creamy saffron gnocchi pairs perfectly with the crunch of the pistachios and the herbaceousness of the parsley. The Aleppo pepper adds just the right amount of heat. It's a dish that's both comforting and exciting.